Monaco 2012 - A new British & World's Best 48 Hour Women's Running Record...Read More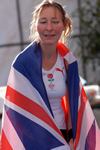 My Story

In 2005 I was the reigning
AAA English 50k Road Race Champion, European 50km Champion Palmero Sicily. The Grizzly winner and the Cornish Marathon winner & new course Record.
2006: I was 9th in the 100k World Championship in Seoul Korea, and won
Dartmoor Discovery 32 mile Ultra - New Course Record.
I won the Silver medal in the British 50km Championships.
I was the winner in New Forest Marathon 2:51 New course record.
I had the quickest V40 British Marathon time, and was the Grizzly Winner.
I was third in the World rankings of 50km, and held the worlds best time, and still do for V40 50km, the time is 3:30:36.

2007: I was top of the rankings in 5m, 10m, Half marathon, Marathon for V40 category and won 1st lady 20m in 2hrs 1m at Bramley.
Then a week before the world 100km championships, I cracked my ankle like a cravas, during the New Forest Marathon, devastated.
2008: Out of competition, injured, complications. London Royal Orthopedic Hospital. Read the links on the home page.
2009: Up an running with a limp. Powerplate motto, and sponsor, Believe you can. I have taken part in 2 world championships, 6th in the world in 50km, 16th in the world 100km and current British 100km champion
2009. Please read links on home page.
November 2009, Debut 24hr no finish line Monaco. 3rd lady, 99.2 miles.
Hopes and dreams for 2010.
Athens, March 2010, 24hr to complete 120 miles and then Spartathlon, 135 miles in October 2010. wow ! I was Third lady (follow link on Home page)
2011 Saw Heather joining another Great Britian Squad.
The AVIVA 3rd IAU WORLD TRAIL CHAMPIONSHIPS ;flying to Connemara Ireland National Park." What fun I had, I loved every minuite of it ; it was awe-inspiring and grueling covered in midges and smelling like a bog bug," Read more here ...
In August 2011 I took part in La Trans Gaule No.9. 1150km run across France from Roscoff in the north to Grussan plage in the south. Photos are in the gallery here(link).
(Read more...)
In September 2011 Heather competes for England in the 24 hour event in the Commonwealth Games in Llanndudno North Wales. Heather drove up with her two sons, Ezekiel 18 years & Joshua 10 years, from Honiton on Thursday. Running through the night Friday to meet the sunrise and hopefully her target of 126 miles non-stop. Bailed out after 90 miles, 18 hours into the race Heather suffers an angina-like attack.
(read more..)
(photos in the gallery)
December 2011 24 Hour Track Race Barcelona
Heather gets gold in the back of an ambulance in the form of a recovery blanket! ..... need to add
2012 No Finish Line Monaco. A new British & World's best 48 hour Women's running record. 196 miles in 45hrs 315.948km. A new British record . I had already broken the French 48hr in Antibes in June 2010.
16th October 2005
Heather wins European 50k at Palermo
My name is Heather Foundling-Hawker, and here you are going to find out more about what I do as a sports therapist and a runner... In the women's race, Great Britain's Heather Foundling-Hawker, running just her second 50 kilometer race, dominated the event from the start, heading off fast from the gun and retaining a convincing lead throughout the race, relegating the seasoned Italian campaigners Monica Casiraghi, the reigning World Champion over 100 kilometers and Lorena Di Vito to the lesser places on the podium. Despite her novice status, Heather Foundling-Hawker came to Palermo as the fastest of the women contenders with a time of 3:35:51 to her credit, nearly nine minutes faster than Casiraghi with 3:44:37 and Di Vito with 3:47:06. In the end, her gutsy frontrunning left no chance to the two Italians, who had to settle for the lesser medals and also the second and third places in the final standings for the Trophy.
see IAU News Page
20th November 2005
Heather wins Bodmin Moor Marathon
Sunday morning was cold on Bodmin Moor as the runners lined up looking forward to the hilly 26 miles of the Bodmin Moor Marathon. Honiton Running Club's AAA and European 50k champion Heather Foundling-Hawker was there to push up her weekly tally of mileage to 90 miles and get a quality workout. Heather planned to run at 6.30 a mile for as long as she could and she managed to keep this pace until just before 20 miles where the cold and hills started to take their toll. She was through 20 in 2 hours 12 minutes which brought hopes of smashing through the three hour barrier for the first time in her running career. But, alas, the weather got the upper hand and she slowed dramatically in the last two miles to record a finish time of 3 hours and one minute, tantalizingly close to that three hour time. After the race she was shrouded in blankets and plied with hot drinks to get her circulation back but she was cheered by her placing as first lady home with only five men in front of her and having smashed the course record by over 10 minutes.
My Victory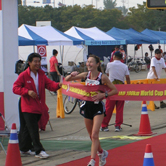 World 100k
]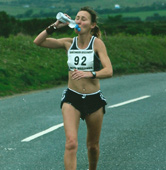 Dartmoor Discovery
50Km road race