My name is Heather Foundling-Hawker, I'm a qualified sports therapist and also a personal trainer. I hold further qualifications in the rehabilitation of injuries & use a soundwave machine to promote healing.

I would like to tell you a little bit about myself and my accomplishments throughout 2005 to now, 2014.
3 Gold UKA medals, 2 silvers, and a worlds best time 50km, European champion 50km 2005.
Heather is eagerly awaiting the opurtunities that present before her for the coming year.
2010 was a tough and formatative year moving up from 100km to 24hr and then multidays 48hr. To find out more about Heathers races in 2011, click here.
COMING UP:
World Trail Ireland, National Park, Connemara National Park. 70km. 7th July 2011.

Trans De Gaule, August 2011. 1150km stage race.
World 100km Championships, Holand, September 2011.
Common Wealth Games, 24hr September 2011. Snowdonia, Wales.


Heathers motto "BELIEVE YOU CAN" certainly enabled her, with the help of her sponsors, Clarks ATSU shoes, for their revolutionary new foot bed to aid recovery - See video.
My accomplishments 2010
March 2010 - Dutchy Marathon to secure London Marathon place for 2012

March 2010 - Athens 24hr event to gain entry for Spartathlon, 1st lady 8th overall 112 miles
May 2010 - Great West Run, Exeter 1/2 marathon
2nd lady 1;26
June 2010 - Antibes 48hr to prove to the Greeks I could stay awake and make the distance required for Spartathlon. Ran 114 miles in 24 hrs, 1st lady, 175 miles in 36 hrs, breaking the French record by 50km.
Heather now has the invite to the World 48hr event at Surges France next year. Only 6 miles off selection for GB 24hr squad. Hence the need for Monaco in 6 weeks time.
July big toe, foot operation was a sucess. Thank you Mr Jamerson Evans, I limped for 4 years before that.
September 2010 - Spartathlon. A pearl was made. It takes alot of grit determination and courage to make a pearl.

November 2010 - Heather is off to Monaco to qualify for Switzerland.
December 2010 - Heather has been invited to set an indoor world record in Evreux, France. More information to come.
My accomplishments 2009
January - English 50km champion Gloucester.
1st female
March - British International 100km Anglo Celtic Plate,
1st female, British champion, England team Gold.
Galway Ireland 2009
May - Great West Run, 1st female, half marathon.
Warming up for world championships 100km
June - World 100km championships Torhout Belgium.
16th in the world, 10th European.
August - Gurnsey marathon, 1st female

Heather won the Guernsey Marathon 2009, she was on fire.
Read More on womensportreport.com
02/09/09
Watch me run, click here - August 2009
September - Common Wealth Games 100km
Keswick Team Gold for England. Flag Bearer
October - World and European 50km IAU Trophy cup.
Gibralter. 6th in the world, 2nd European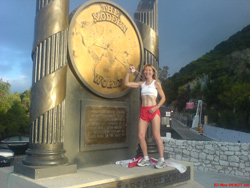 November - Monaco, No finish line, Heather debut 24 hour third female, 99.2 miles, Spartathon here we come.

PROFEET

Profeet In Fulham. Heather got custom made orthotics used after her injury.


I am currently in the Great Britain ultra marathon squad.

If you would like any more information or would like to book an appointment then please call me on
01404 45917.