Llandudno Commonwealth Games September 2011 24hr Ultra Distance Race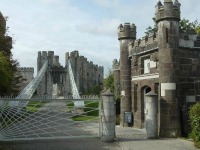 Heather bails out after 90miles,
The common wealth Gold team medal had heathers name written all over it from 4th to 2nd n back to 3rd quite comfortable in the windy conditions that prevailed her.
Until 90miles later and 18hours into the 24hr race.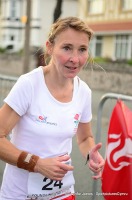 Chest pains gripped her cavity
tight clamping,
rhythmic spasms impinged her breathing then retching acid like a little fledgling chick,
Involuntary shivers and hot wet sweats followed.
Was it wise?
To protect me?
Leads me to indecision.
Unknown parameters
Who would be there for me?
Who was there for me?
Running for 24hours is something you can't do alone?
The need to reassure; keep moving, enable, encourage,
Make cups of lemon n ginger tea.
Pass clothing n refreshment.
I thought it best to retire from the race o back warm up n recover me...
Two hours later I returned to watch the others struggle in disappointed yet proud to have looked after me. No team Gold this time hopefully an opportunity will be given to heather again.
I now go to Barcelona in December to try again the qualifying distance 125miles. Yet this time not alone !